USP AND KEY FEATURES

SEO Spider is a website crawler that allows you to crawl websites' URLs and fetch key onsite elements to analyze onsite SEO. It basically, "spiders" links, images, CSS, scripts, and apps on websites like a search engine for the purpose of onsite SEO evaluation.
SEO SPIDER HAS A GOOD RANGE OF OPTIONS TO MAKE USE OF, HOWEVER, SOME FEATURES REALLY STAND OUT:
The auditing redirects enable you to seamlessly integrate migration with relative ease. For instance, SEO Spider enables you to upload your old URLs list, crawl them, and follow any redirect chains, until the final target URL is reached; and generate the data onto a single report for viewing.
The Crawl Path report enables you to identify exactly how the SEO Spider discovered a URL or how to view the "in links" to a specific URL
The SERP snippet emulator enables you to edit page titles and meta-descriptions directly in the SEO Spider and these changes are saved automatically but you can continue to edit them until you're ready to export.
PRICING PLANS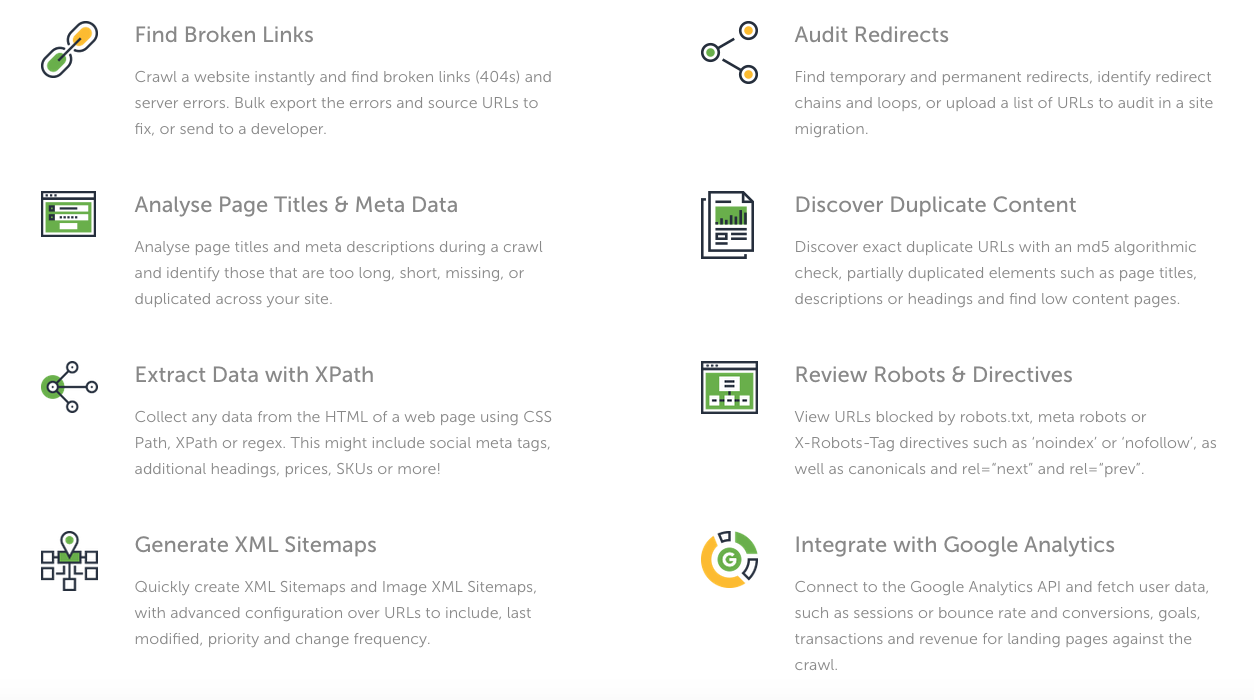 SEO Spider comes in two versions, one free and the other, a renewable paid a license for GBP 149 yearly. The free version enables you to crawl up to a limit of 500 URLs and offers:
Locating links, redirects, and errors
Analysis of page titles and metadata
Reviews of meta robots and directives
Audit of href lang attributes
Finding duplicate pages
Generating XML sitemaps